Rutabaga Paddlesports is entering its third decade of ownership with employee-turned-owner Darren Bush in a new, permanent, state-of-the-art facility to call home. Soon-to-be-located on Rimrock Road in the Novation Campus, Rutabaga Paddlesports will welcome outdoors enthusiasts to its new location later this year.
Rutabaga started in the basement of an old house south of the University of Wisconsin-Madison campus. Local sporting goods stores wouldn't take special orders, resulting in a small group of paddling enthusiasts buying gear from manufacturers, keeping some for themselves, and selling the rest to friends. Bush worked for Rutabaga part-time until he was faced with the decision to either invest in the business or quit and follow a new path in life. Coincidentally, the business came up for sale the week after he announced his departure from the company, and the rest is history.
"As a small, family-owned and operated business, we have the opportunity to make choices that larger box stores can't," said Bush. "We like being an independent, single-store specialty retailer, because if you call us, you don't get a call center, you get one of us."
With their lease coming up for renewal at their Monona location at the onset of the pandemic, Rutabaga started considering their options. Bush had a vision for Rutabaga's future: a space to call their own, a central location, and a nearby water source. He started using Google Maps to look for water, and his search led him to Lake George off Rimrock Road, where he noticed adjoining vacant land was listed for sale.
"The idea was to give the business a chance to flourish by anchoring it on property I control," said Bush. "I'm setting the next ownership group up for success. This wasn't just my dream, it was everybody's."
Bush started with what he wanted then worked backwards, soliciting feedback from staff at every step. Sustainability was high on the priority list. Building operations will be completely carbon neutral and rely on solar power. Light harvesting tubes bring sunlight in from above and diffuse it throughout the interior. Electric vehicle charging stations are available in the parking lot, and all building systems are high efficiency. Bush says everything about the new space aligns with Rutabaga's ethos.
Rutabaga is operated by and for outdoor enthusiasts, so Bush wanted to be able to see outside from nearly every corner of the space, resulting in the façade featuring ample floor-to-ceiling glass expanses. Every detail has been thought out, from the consumer experience to staff procedures. Bush says it was truly a collaborative process. Perhaps the most notable new feature is a custom pier extending over Lake George, offering consumers a chance to try out their gear before purchase.
"We're pleased to be part of an already established community," said Bush. "And I'm already addicted to Finca Coffee's pupusas."
Construction of the new Rutabaga Paddlesports facility broke ground in June 2022 and is expected to come to completion in the fourth quarter of 2022. The Monona location at 220 W. Broadway will remain open throughout construction of the new facility. Rutabaga plans to hold a soft opening this fall with a grand community celebration planned for spring of 2023.
"We're thrilled to have Rutabaga join us at the Novation Campus," said Joe alexander, President of The Alexander Company – the local real estate services firm that has been facilitating the transformation of the Novation Campus. "They're a great fit and a welcome addition to the housing and businesses we have on campus."
Bauer Builders is the general contract, and Kontext Architects is the architect of record and interior designer. Rutabaga Paddlesports will bring another health-forward focus to the mixed-use Novation Campus, joining existing companies including Exact Sciences, UnityPoint Health – Meriter, Great State Fitness, as well as Finca Coffee, Delta Beer Lab, and others. The Novation Campus is centrally located along two of Madison's primary thoroughfares – Beltline Highway at Rimrock Road and Highway 14, and offers convenient access to downtown Madison, Dane County, and the Interstate System. In addition, the Novation Campus is accessible via Madison's network of bike paths and the Madison Metro bus system.
"From the time I found the property to when we closed, working with The Alexander Company was a breeze," said Bush. "We struggled a little with some timeline issues because of unexpected construction delays, but everyone at the Novation Campus was great. We just worked on the problem collaboratively until it was solved."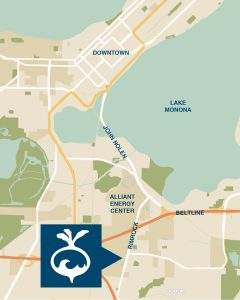 ABOUT RUTABAGA PADDLESPORTS
Rutabaga Paddlesports has received Paddlesports Retailer of the Year form Canoe and Kayak Magazine a record eight times and was voted one of the best 50 Places to Work by Outside Magazine. Family owned and operated since 1976, Rutabaga Paddlesports is a nationally recognized kayak, canoe, and stand-up paddle retailer. The company's paddling school, Rutabaga Outdoor Adventures, teaches paddling skills to over one thousand paddlers a year, and their annual Canoecopia is the largest paddlesports consumer event in the world. Learn more at rutabagashop.com.