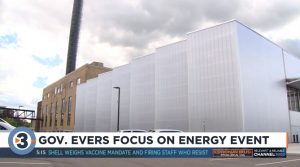 Eliminate energy waste, find cost-effective ways to be more energy-efficient while providing jobs, and strengthen the economy – that's the goal of the "Focus on Energy" program.
For nearly 20 years, Beloit College has focused on sustainability projects. "Focus on Energy" has been helping the college save nearly 18 million kilowatt hours of electricity and 1.6 million therms of natural gas.
A new multi-use building called the Powerhouse is the culmination of Beloit College's sustainability goals. It was the old Alliant Energy Black Hawk power plant along the Rock River, and was going to be torn down years ago – but the college saw the true potential of repurposing the old coal plant into its new student union, rec, and athletics facility.
Click here to continue reading »
This article was originally published by Channel 3000.